Installation:
The beauty beneath
We use LATHAM™ galvanized steel pool kits for a reason. LATHAM™ systems are state-of-the-art, replacing the old welded systems. And that makes our lives easier. And that gives you a lifetime warranty.
LATHAM™ sets the standard in manufacturing and engineering
Steel wall construction + vinyl liners available in over 1200 shapes and sizes.
LATHAM™ uses an innovative manufacturing method (and they're proud of it). Galvanized steel systems are the new manufacturing method, replacing the old welded systems. The fastening systems keep the integrity of the steel panel's galvanized coating intact.
LATHAM™ engineered pool wall system
Ultra Durable. Thousands of shapes and sizes. Lifetime warranty.
LATHAM™ steel pool kits use an innovative design that allows for seamless panel overlap. Their factory-engineered wall panels are made of corrosion-resistant heavy gauge galvanized steel for unparalleled strength. And, at the end of it all, LATHAM™ backs their custom kits (over 1200 size/shape combinations) with a lifetime warranty.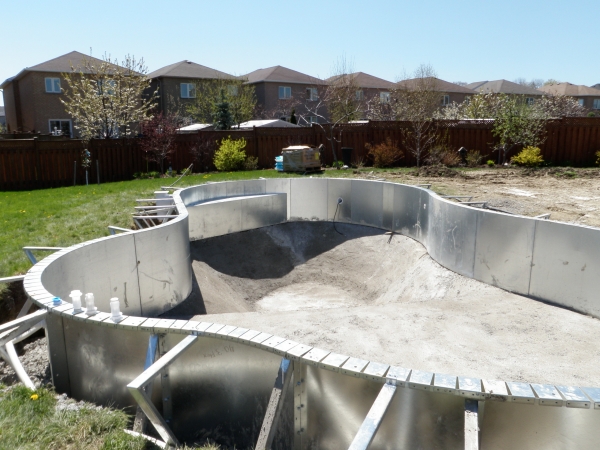 Latham™ braces walls right. And that means maximum deck support ahead of the rest
An emphasis on strength for rigidity.
Manufactured from super strong 14 gauge galvanized steel, the LATHAM™ single, double "A" or box deck brace supports were engineered to support the deck around the pool.
It starts with the adjustable "a" frame
LATHAM™ engineers designed a unique, heavy-duty, notched adjustable "A" frame that ensures perfect alignment.
It ends with the "double l" design.
The double "L" design is the strongest in the industry. 14 gauge galvanized steel braces are press locked in place, not only to the back of each wall but also on the top and bottom. Each panel retains its original pre-formed shape.
Latham™ "a" frame + Latham™ "double l " wall brace design = max deck support
Top quality materials + lifetime warranty
Dream Pools only uses the best technology and the highest quality materials.
We use more compact backfill (3/4" clear) and a two-stage concrete bottom method for a stronger, smoother bottom that extends the life of your vinyl. We back our underground plumbing for 20 years and we use LATHAM™ liners that come with a limited lifetime warranty on every pool we build.